St. Louis County business, animals bring Nativity scenes to life | Local Business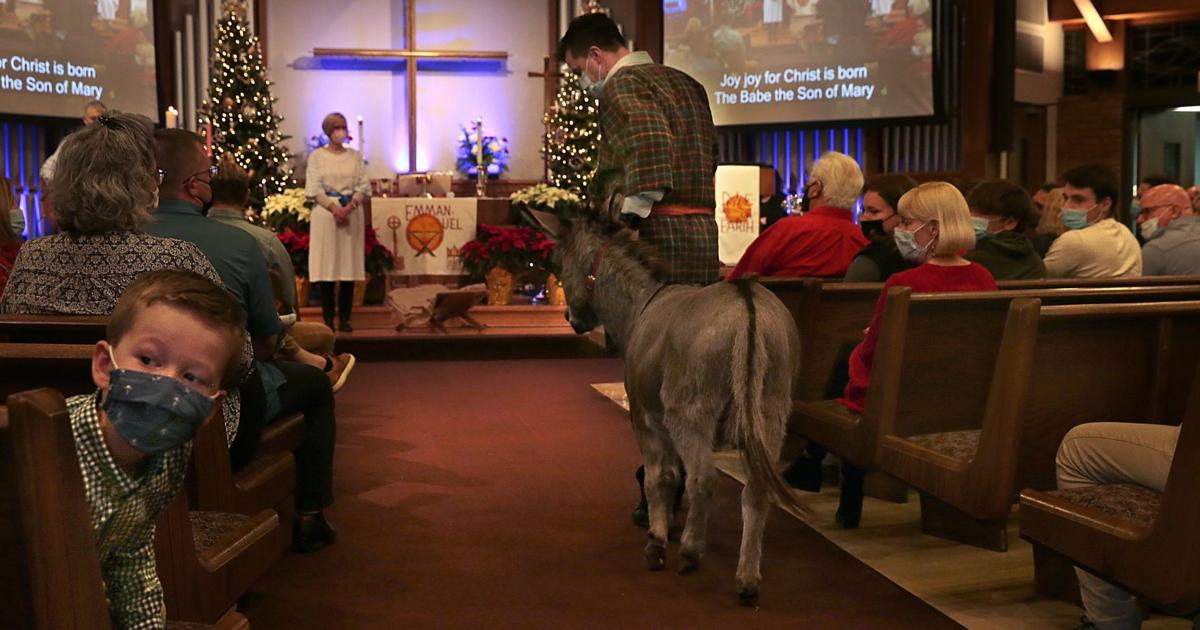 MANCHESTER — For most of the year, the denizens of Marta Tobler's mobile petting zoo focus on delighting guests at birthday parties, festivals and corporate events. But come December, you can find them in church.
As the weather cools, and Christmas approaches, Tobler's horses, donkeys, cows, sheep and goats are called to a sacred purpose. Pastors and parishes near and far call on Tobler's company, St. Louis County-based Cowboy Critters, to recreate the barn in Bethlehem, crowding around baby Jesus in live Nativity scenes.
The church work is a small fraction of the mobile petting zoo business. And Cowboy Critters is one of just a handful in the region offering the performances. But they help pay the bills. And after the pandemic shuttered live church services last year, even closing a competitor, this winter has been a big one: Tobler had booked 25 Nativity jobs this month as of Wednesday.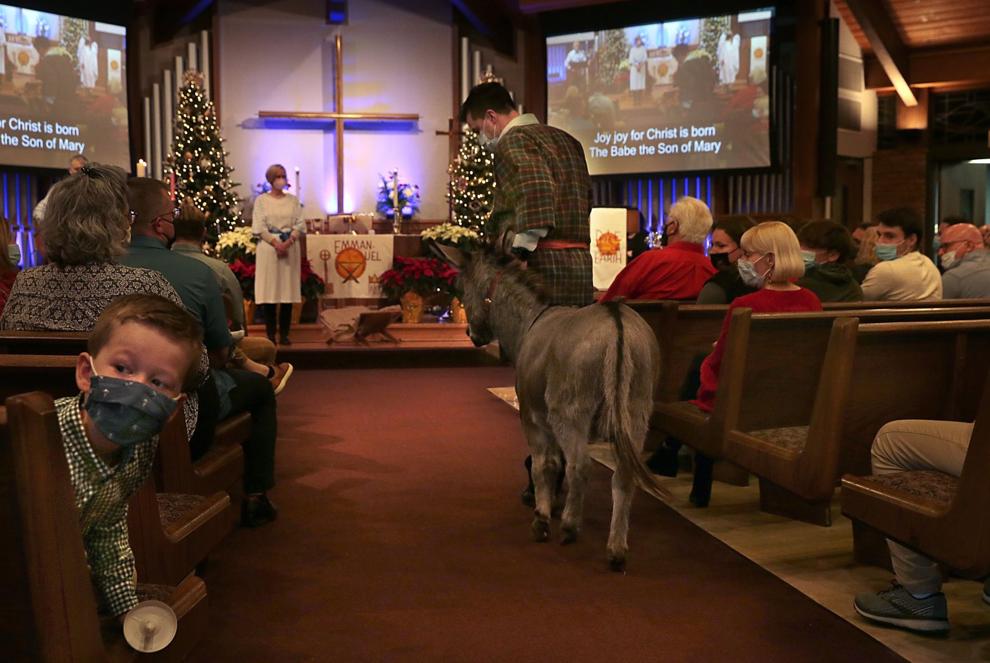 "The kids love it," said the Rev. Josh Brecht, lead pastor at Good Shepherd Lutheran Church in Manchester. "They go a little crazy. A donkey walking into the church isn't a thing they usually see."
Good Shepherd has two Christmas Eve services that feature animals, and Brecht said they're likely the best attended services all year.
It all comes naturally for Tobler. Her family bought a farm when she was 6 years old, and she's lived around animals ever since. She did 4-H all through high school and got her degree in equestrian science from William Woods University in Fulton, Missouri, near Columbia.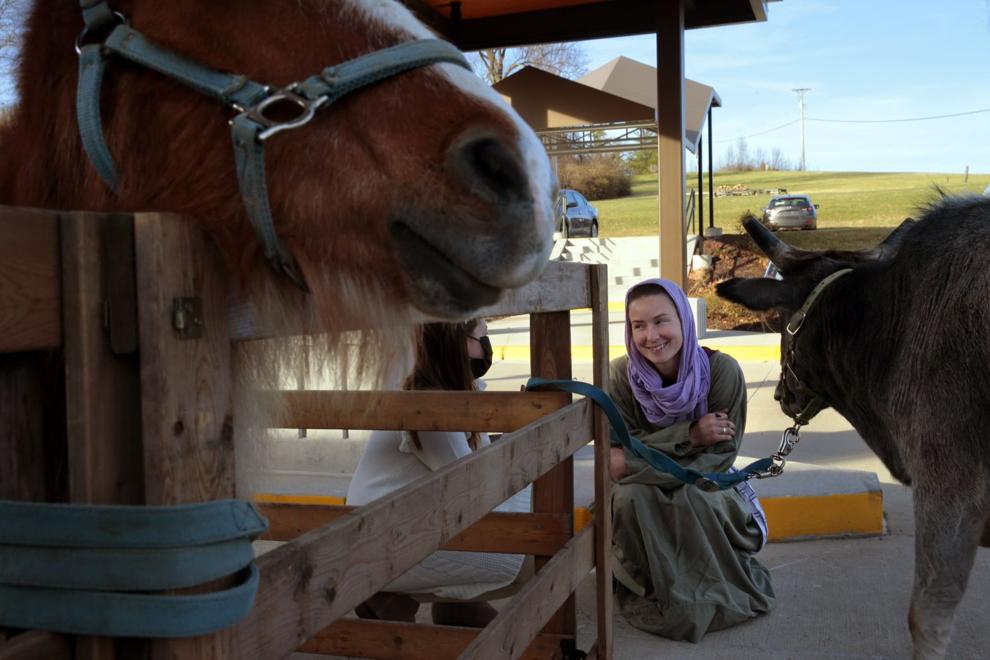 Shortly after she graduated around five years ago, she and her husband, Charlie, took over Cowboy Critters from her father-in-law.
Among her charges are the horses, donkeys, cows, sheep and goats that feature in the nativity, as well as chickens, a rabbit and a miniature pig. She's gotten them from farmers looking to offload animals who need extra care and from advertisements on Craigslist.
There are sheep named Moses and Aaron. "They're twin brothers," Tobler said. David, a miniature donkey, is among the crowd favorites. Goliath — David's best friend — is full-sized.
The group also has a black sheep, Shiloh (who is not a disgrace). "Everybody thinks she's really cool," Tobler said. "They always sing 'Baa Baa Black Sheep' to her."
The fee of $350 buys a five-animal petting zoo and pony rides for an hour, with additional hours available for $150 each, Tobler said. And for an extra $100, one of the ponies can be dressed as a unicorn.
During the busy summer season, Tobler can book 15-20 events in a weekend, she said.
But the orders slow down as it gets colder. Without Nativity scenes, December would be part of the offseason, Tobler said. Thankfully, some of the business' oldest customers are churches.
They've had the animals set up outside for drive-thru events, and they've made trips inside to punctuate special Christmas services. Tobler has also provided horses for Roman soldiers and sheep for shepherds to assist with elaborate "Journey to Bethlehem" events, where groups walk through a series of outdoor stations that tell the Christmas story.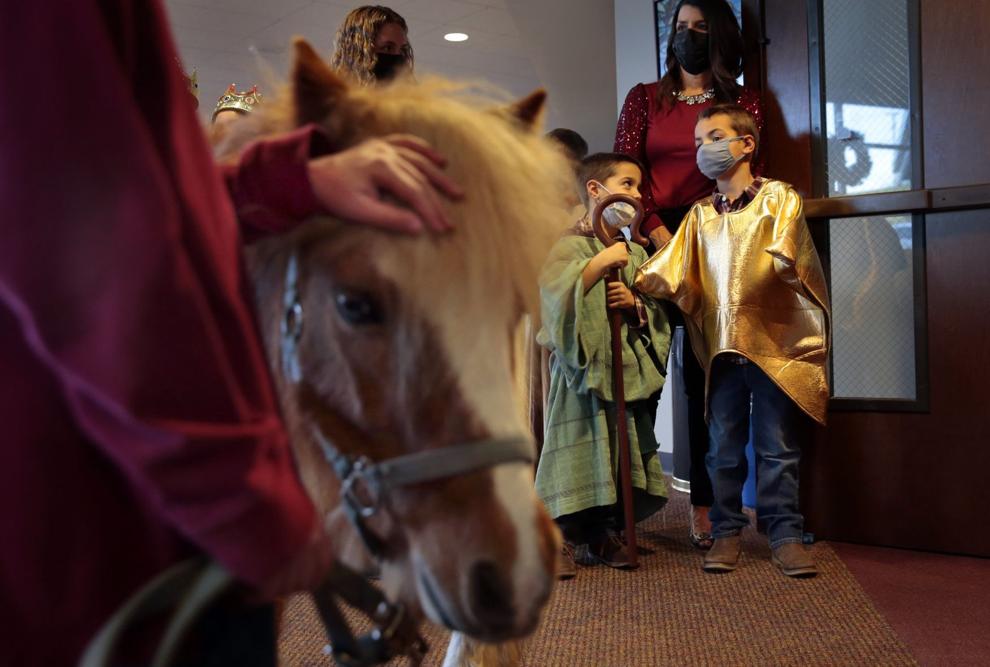 Churches usually provide their own Mary, Joseph and baby Jesus, Tobler said. But Cowboy Critters employees can stand in as side characters if needed.
On Friday afternoon, Tobler set up a collapsible, wooden pen outside Good Shepherd Lutheran Church, and brought each of the animals from the Cowboy Critters trailer into a temporary enclosure. The band was warming up inside, and music wafted out faintly to the parking lot.
Once the animals were secured, Tobler pulled a long, green dress over her clothes, tied a white sash around her waist, and wrapped a purple head covering over her hair.
As families began to arrive in the parking lot, they stopped to greet and take photos with the animals.
"So fluffy!" exclaimed 10-year-old Margaret Mueller, as she pet the miniature horse's mane.
"She would stay out here all day," said her mother, Amy Mueller, before shepherding Margaret and her brothers, Gus and Hank, inside.
Children in their finest sweaters, dresses and collared shirts flocked to pet the animals.
But 1-year-old Mia Mendoza was more cautious. She walked up and gave David, a miniature donkey, one quick pat on his side, and then stepped back. She waved at Levi, a goat, and Alfredo, a sheep. Mia's mother, Kaitlin Mendoza, sat next to her, offering gentle encouragement, until Mia finally decided to step forward and pat Levi on the top of his head.
The sight was just as thrilling to 75-year-old Katie Lundvall. As she walked up to the church, she exclaimed, "I'm a kid at heart, I gotta see the animals!"
Lundvall, a Ballwin resident who has attended Good Shepherd for more than two decades, said she thinks the addition of the animals to the Nativity scene helps children learn and remember it.
"You become part of it," Lundvall said.
The families filtered into the church, and the children taking part put on their robes, crowns and halos. When the pews were nearly full, the service began, and the Nativity story was read aloud. Tobler and a group of parishioners led the animals inside throughout the telling of the story, and when it was done, led the animals back outside.